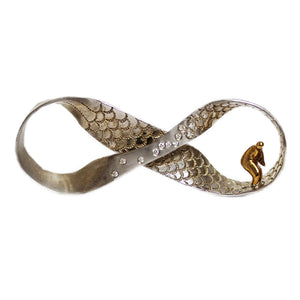 The Surfer and the Timeless Ocean
Sale price Price £1,800.00 Regular price
Designed in response to the question posed by the Chaiya Art Awards: Where is God in the 21st Century?
This brooch imagines God as infinite and ubiquitous, a metamorphic being that lives and breathes through the natural world. It was inspired by Zen Master Thich Nhat Hanh's metaphor for the relationship between God and human as that between the ocean and the wave. The power of the ocean creates the waves. The waves have their own individuality, but their lifespan is relatively short, emerging from and returning to the ocean. Globalisation and technology have for many people in the 21st century made God less well-defined and harder to imagine, but the feeling for God remains strong, especially in moments where the power of nature holds our lives on the edge of death as for the surfer and the wave. God's power, although metamorphic, is timeless: from the ancient, auspicious Japanese wave pattern depicting a calm sea, to modern surfers pushing their luck against the big waves.
Silver with diamonds and a 22ct gold plated surfer.